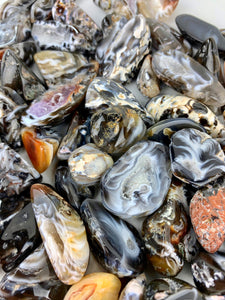 As a stone of harmony, one of the things agate does is balance yin/yang energy. 
Emotionally, agate gives courage, emotional strength, self-confidence, and dispels fears.
This listing for a set of 3 Agate Geode Tumbled Stones, a set will be intuitively chosen for you, colour and size will vary slightly per crystal. Agate Geode tumbled stones are approximately 0.75-1 inch each. Not all three Agate Geodes in the set are guaranteed to have druzy.