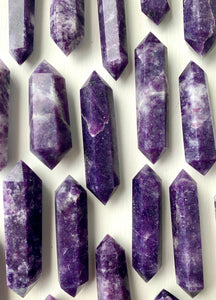 One of the best mood stabilizers in the world of gemstones, the Lepidolite crystal contains a high amount of lithium, which is also used in anti-anxiety medication. Call on Lepidolite to balance the mind and spirit, especially when you need to cool off fiery emotions. This gentle healing stone stimulates all chakras, dissolving energy blocks keeping you from true happiness.
(1) One Lepidolite DT will be intuitively chosen for you, each crystal will very slightly in colour and size. Lepidolite DT are approximately 3.5 inches long.
**Lepidolite naturally ranges from light purple to dark purple, please leave us a note at the checkout with which you would like!