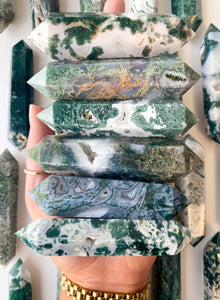 Moss Agate is a stone of new beginnings. It refreshes the soul and enables you to see beauty in all you behold. Moss Agate reduces sensitivity to weather and environmental pollutants. It attracts abundance in wealth and improves self-esteem.
(1) One Moss Agate DT will be intuitively chosen for you, each crystal will very slightly in colour and size. Moss Agate DT's are approximately 2.5-4 inches long.
Please note not all Moss Agate DT's have druzy.