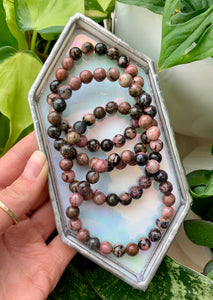 Wearing crystal bracelets is one of the easiest ways to incorporate crystals into your everyday life! Crystal bracelets are an amazing way to integrate crystal healing into your daily routine and outfits!
Did you know it is suggested to wear your gemstone bracelets on your non dominant hand as this is the hand that receives the most energy.
Rhodonite is a stone of compassion, an emotional balancer that clears away emotional wounds and scars from the past, and that nurtures love. It stimulates, clears and activates the heart. Rhodonite grounds energy, balances yin-yang, and aids in achieving one's highest potential.
Each Rhodonite bracelet is handmade with elastic cord, and 8mm genuine crystal beads. Select your desired size by using the drop down menu.
 ☾ Crystal Bracelet Size Chart ☾
X-Small 7''
Small 7.5''
Medium 8''
Large 8.5''